So. 2. Juli – So. 30. Juli 2017
MMRP – Nr 2 präsentiert: Red Salt Kollektiv (Andrej Zverev/David Heikkinen/Wojciech Pindur) aus Stockholm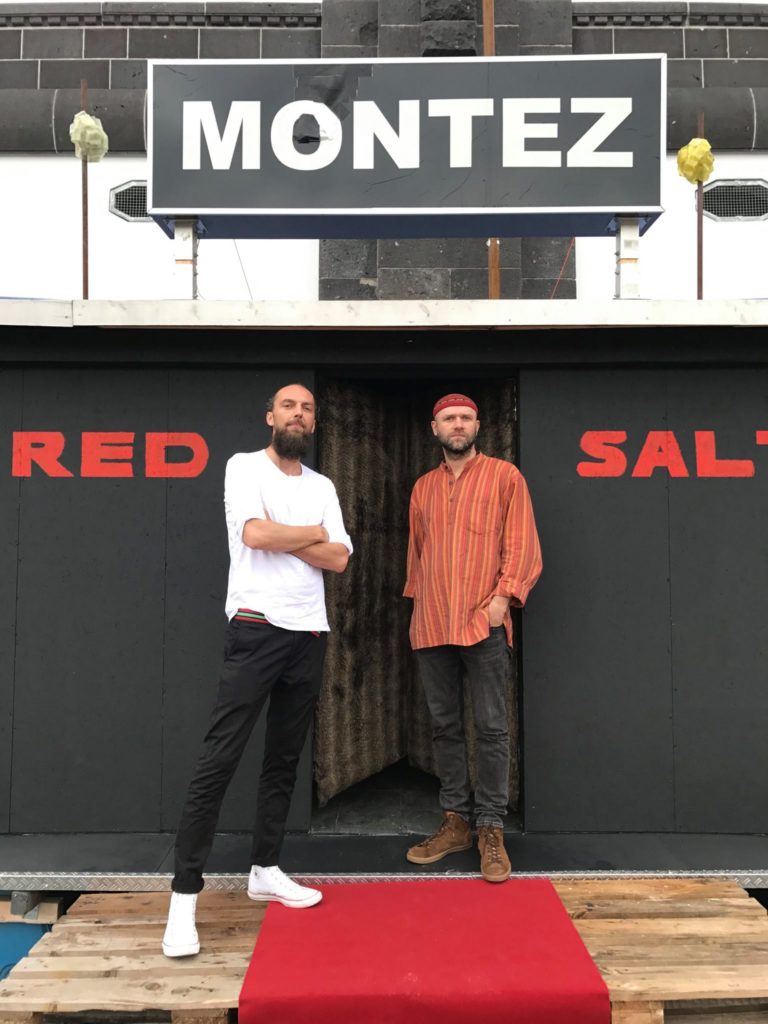 MMRP präsentiert: Red Salt: Passions of the Fur/ Reflections of Time
Montez Micro Residency Programme 2017 –
curated by Elizabeth Coleman-Link – Kunstverein Familie Montez
RED SALT is a concept studio-gallery where artists host exhibitions and music events. Studio-gallery is located in Stockholm. The main target artists are those who represent different art streams such as painting, photography, design, music, performance art, installations, etc. RED SALT`s main goal is to contribute to the development of non-commercial art. It creates a free space where there will be no separation between different ethnics, religion, age and hierarchy. RED SALT hosts group and solo exhibitions, as well as jam sessions and experimental music nights. "RED SALT" community also participates in other exhibitions and festivals.
httpss://www.facebook.com/RedSaltCollective/
I. PASSIONS OF THE FUR
By changing objects exterior structure of with soft synthetic fur, this project aims to both play on the hazard of the paradoxical attraction, and to challenge the viewer. The project is presented as an exhibition that explores the psychological boundary through dialogue between object and viewer. The exhibition also consists of a sound installation that specifically reinforces the evocative atmosphere that the objects induces.
Andrej Zverev – installation
David Heikkinen – sound
II. REFLECTIONS OF TIME
Wojciech Pindur – Harnessing light" installation
'Harnessing Light"- is about catching and bending beam of light in a space of the artwork. It's not easy to catch the light but by using different materials and structures a beam of light can be magniffing and can be used as a tool to focus light on objects. In his own imaginary structure of reflections and illuminations the work reflection of light plays between the pieces of glass and mirrors building their own endless space and deepness.
The artists:
Andrej Zverev (born 1974). "My artistic work is based on exploring the interaction between object and viewer. In my various installations I have worked with mixing materials and shapes. To challenge the viewer's perception, I experimented with the pictured image of an object through displacement of the object's purpose, thereby creating contrast and paradox. Key concepts in my creations are stories of the worlds inbetween dream, imagination and reality. In my paintings I revive emotions and sensations of objects experienced in real events and then repeatedly occuring in dreams. The stories also highlight the difficulties to separate illusion from reality, something that may occur under certain circumstances."
Wojciech Tomasz Pindur is conceptual artist from Poland . Working and living in Stokholm , Sweden . Wojtek was born 1980 in Silesia , Poland. Wojciech recived his artistic education at Art and Craft Folk Wzdow University in Poland. His artistic history is varied Wojciech he has a strong background works on furniture design, interior design and various forms of art. Music is an important element in his life. Wojciech and his friends are founders and members the collective RED SALT.
Links:
https://andrejzverev.com/
httpss://www.facebook.com/RedSaltCollective/
https://www.supermarketartfair.com/exhibitor/red-salt/2017